This book about Agile Culture is based on two major ideas: In today's rapidly changing world, we need to unleash the talent of everyone in the organization. The combination of a culture of trust and everyone knowing and owning results is the foundation for innovation and motivation. As the Agile Manifesto values "individuals and interactions over processes and tools", dealing with the people and culture aspects of software development should be a major concern for every organization that tries to be Agile.
This book discusses topics like unleashing talent; trust and ownership; business alignment tools; dealing with obstacles and resistance you find to changing the culture; developing metrics for the optimal culture and discuss why they are important. The book is well written with a nice balance between the presentation of the concepts, real life stories that put them in perspective and "how to" practices, something that was already present in Stand Back and Deliver, the previous book from Pollyanna Pixton. My favorite parts are the Trust-Ownership Assessment presented in the chapter 3 and the discussion of ambiguity, risk management and how to deal with non-collaborators in chapter 7.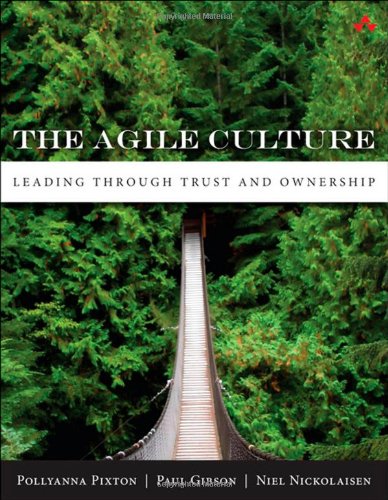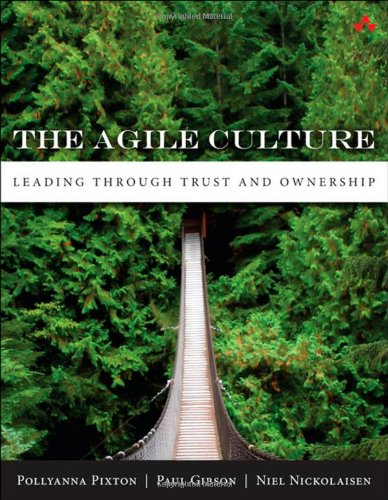 I will naturally recommend this book to every software development manager or project manager who want to have a better understanding of the people aspects of application development, whether they are using or not an Agile approach to software development. This book will also interest every Agile software developer interested in the people aspects of software development.
Reference: "The Agile Culture: Leading through Trust and Ownership", Pollyanna Pixton, Paul Gibson and Niel Nickolaisen, Addison-Wesley, 229 pages, IBSN 978-0321940148
Get more reviews on this book or buy it on amazon.com
Get more reviews on this book or buy it on amazon.co.uk
Quotes
I'm the Leader. I know what needs to be done and how. This is a very dangerous assumption. While Leaders can be expected to have considerable self-confidence, they are often not aware of all the implementation implications.
Because we sometimes have a tendency to tell our team how to do things, we need to constantly remind ourselves to get out of the "how" business and stay in the "what" and "why" business. Once we have done that, we need to make sure that we do not take that ownership away; otherwise, we stand between our teams and their ownership and development. In this chapter, we have provided some tools for you to help your teams take ownership, for you to not take it back, and to work with your teams to define their ownership (the walls of the Macro-Cube). Then, stand back and let them deliver.
We create value when we focus our innovation on what creates our competitive advantage, and then we do almost everything else just well enough. Stated slightly differently, work does not create value if it does not directly support our competitive advantage. Likewise, we do not create value if we do everything else better than it has to be or if we do it poorly. This is simple in theory but difficult in practice.
Bad metrics can create boundaries, suboptimization, and conflict, all of which result in poor performance and lost revenue. Good metrics, which focus on overall customer and business value, naturally foster collaboration and ownership. So what are the good metrics? In this chapter, we explore what metrics will maximize the delivery of business value, support dealing honestly with ambiguity, foster trust and collaboration, and not take away ownership.